Two Sides to Christmas by Jackie Grant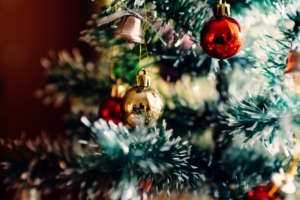 Santa Clause is in the shops.  It is just two weeks to Christmas.  Christmas decorations are hanging from every shop window.  The children are full of joy hoping that Santa will have their special presents on Christmas morning.  The parties have started and everybody is having fun.
There are carol singers singing on every street corner.  The lights are on as the children gaze into shop windows but Christmas is not fun for everybody.  As I walk down O'Connell Street and over O'Connell Bridge, I can see a lot of people sitting in doorways out of the cold damp weather. They are wrapped up in newspapers trying to keep themselves warm. The saddest thing of all is they probably have worked hard all their lives and for some reason or other ended up living on the streets.
I think it is very sad, they look so lonely.  Sometimes I wonder what they're thinking.  I wonder do they have families.  I find it very hard to look into their faces, the lonely look in their eyes as if they wanted to say to me, "I'm somebody's child.  Santa came to me too at one time.  I was loved, and at one time I loved also.  I wasn't always like this.  I used to work for my kid's just like other Daddies work for theirs.  The only difference between us is I have lack of money.  No home, no food and no drink on my table, no kids to play with on Christmas morning, but that doesn't take away my memories of Christmas times gone by."
Exercise 1
Unscramble these words from the story: 
Exercise 2
Answer the questions below:
Exercise 1
Unscramble these words from the story: 
Mritschas 
Caoeortdisn 
Bblorypa 
Wserpaneps 
ecnerffidc 
Exercise 2
Q1. Who were singing on all corners? 
______________________________________________________
Q2. Why did Jackie find it hard to look into people's faces? 
______________________________________________________
 Q3. What did people use to keep themselves warm? 
 ______________________________________________________
Q4. Describe in your own words the best memories of Christmas past. 
______________________________________________________
______________________________________________________
______________________________________________________