Welcome to
Coolock Darndale
Adult Literacy Service
If you or someone you know would like to improve their reading, writing, maths, or computer skills you're in the right place!
This website showcases some of our students' work and is a resource for Adult Literacy students and tutors to use. It should also give you a better picture of what we do.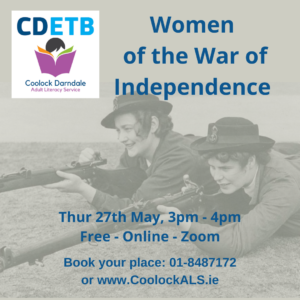 Women of the War of Independence
Thur. 27th May, 3pm – 4pm
Join us on Zoom with our guest, Hayley Brabazon, who will introduce us to some of the lesser-known heroines of the Irish War of Independence, their incredible deeds, and what became of them.
Hayley will explore some hidden stories from, the Rising to the early days of the Irish State, with time for your questions at the end.
Please note, this event will be recorded and the audio shared at www.CoolockALS.ie. No video recording will be shared from the event.
Need a hand with Zoom? Just let us know when you register.