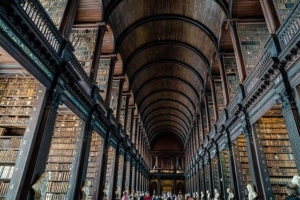 Trinity College is steeped in history, it goes back as far as the 16th century.  Writers, poets and many other famous people came to study in Trinity College.  People from around the world have heard about Trinity College and have come to see it.  There is so much to see.  There is the old library and the new library.  The old library holds the Book of Kells, It is a beautiful book, full of art and Celtic writing.
The film, Educating Rita was made there.  This is a film about a hairdresser who wanted to educate herself and to get a scholarship to go to the college.  Students come from around the world to study and to become writers, artists, scientists, journalists, poets, engineers and doctors in Trinity.
The Trinity Ball is held every year in the college during the month of May.  This is a big event for students attending the college.  The girls dress up in ball gowns and the boys in evening suits and bow ties.  Dancing and drinking into the early hours of the morning while having a great time.