Town of the Poor by Eugene Harford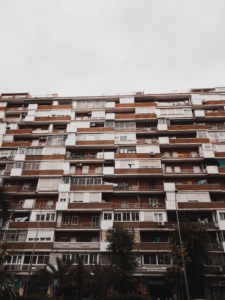 I grew up in my teens in the 1950's in Ballybough, which in English is 'the town of the poor'. They were simple people who lived there. I lived in a flat with my mother, a widow, and my younger sister. My mother did house cleaning for a living. Many a day I had fried bread for breakfast – a soft boiled egg on Confirmation Day. Some people grew their own vegetables in plots. One man bred pigs, another bred dogs to earn money.  
Me and my pals sold scrap metal for pocket money. On summer days, we'd make up pedal bikes from spare parts and we'd go to Dollymount and swim in the salt water, dreaming of treasure on the beach. We'd collect wood, light a fire, brew tea and eat a jam sandwich.  
Facing the flats were 10 cottages. A man called Whattie lived there –  he got the nickname because when he was spoken to he'd say, "What? What?'. His one room had a bed, another a table and 2 chairs, a small sink, no taps, a small fire, a fireplace, a 2-ring gas stove, 2 electric lights and a little radio. In the centre of the back yard was the toilet – 3 block walls, a tin roof and a wooden door – you brought your own newspaper! There was a pipe sticking out of the ground for tap-water. The plaster inside the rooms were stuck together with horses' hair. In summer, they lit sulphur candles to kill the bugs.  
Whattie was a bachelor in his 70's and his friends Joe, Sean, Bill and Tom rented a one room cottage for 6 pence a week in the winter. They had a dart board, a ring board and a deck of cards. They brought their own turf for a fire til the cottage burned down. 
In the summer, they would go and meet at the barber's shop. One day, Bill said, "Mr Rush's pigs are gone off their food". Tom replied, "He's force feeding them – they are all stressed out". Sean said, "The pigs know when they are going to be black and white pudding.  Ah! Here's Whattie!".  
Whattie had a Jack Russell dog and he was always scratching – I never saw any of Whattie's friends petting him. He was called Whampo. They would all go the Clontarf to watch the ships and the dog loved the salt–water. Whattie turned up one day and told them that the dog was dead. Bill said,"He was a great rat catcher and a great swimmer. Ah yes, let's have a Viking's funeral." All agreed to this.  
They got Tony T to bring them to Clontarf in his auld taxi. Whattie wore a sports coat with frayed cuffs and collar. Me and my pal, Mick, followed on our bikes to Clontarf. They placed the orange box on a plank of wood. Joe had a prayer book and said a few prayers, Sean sprinkled holy water over the body and Tony place an old cloth over the dog. Then, he poured petrol over it. Sean lit the match and pushed the plank out on the tide – you could see the flames clearly.  
Across the road was the police station and after a few minutes, a big Kerry Sergeant appeared. "What's going on", he asked.  
"We are having a Viking Funeral." 
"A Wha'? Who's dead?", he roared.  
"His dog!" 
"A dog? Only for your age I'd have the lot of ye all up on charges for cruelty to animals. Get the hell out of here!" They left in a hurry! 
Back in Ballybough, we saw the taxi outside the pub. Now, it was the talk of the town for days and Whattie went missing.  
Sunday, after the young priest had said mass, the old priest climbed to the pulpit (he liked a drop of vino). He spoke for all who had services over the past year. The woman who looked after the prayer books heard Whattie had a bereavement and got the name. She handed a little note to the priest and he said, "For those who died in the past year, my condolences.  Let us kneel and pray."  
On Monday, they stood at the shop and Whattie appeared with a smile on his face holding a basket. He lifted the cloth off and there was a Jack Russell pup.  
Bill said, "Tis a thoroughbred". 
 "The image of it's father," replied Tom, "What's his name?" 
"What? What?" 
"His name!" said Sean. 
Let's call him Whampo Junior!! 
Exercise: Fill in the blanks