The Magic of Football by Paul Gibbons – 2019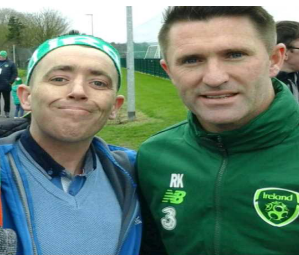 Football is for all.
My story is about children with autism and how sport can help them.  Every Friday from 6 to 7pm everyone is welcome to come to the Darndale Community Hall to play football.  This is not ordinary football, this is special, this is football for all.
This started in the local hall but the magic has now reached other areas of Dublin and even rural Ireland as more people hear about it.  On 16th March 2019 we had our open day.  Local TD's, councillors, business owners and sponsors all came along to support this special night.  The children all played football in front of TV cameras and it was shown on RTE and TV3.  Some radio channels and papers also covered it.
This is the start of something really special.  We have 2 coaches from the FAI who started with us in January.  We started with 4 kids and now we have 16 signed as young players for Darndale F.C.
2 days after our open day on 18th March, I got a phone call from a good friend of mine, Tommy.  He had gotten a call from Robbie Keane and Mick McCarthy who said they had never seen anything like this before and wanted to get these kids to meet their heroes.  On the following Monday morning, we got everyone together and headed to Abbottstown, the headquarters of the FAI to watch an Ireland training session.
On arrival, we met with Robbie Keane and we are all cool as a breeze.  We went to the desk where we were given wristbands and they took the names of the kids.  The FAI directed us to two locations, one for standing on the hill and one for children in wheelchairs.  This was at the bottom of the hill.
The Irish team came out and started training.  The look on the kids' faces was something I will remember to the day I die.  For me seriously, it was like winning the Lotto or finding treasure at sea.  The kids watched them train for about 40 minutes.
After the training session, Robbie Keane kept his word and said every child will get their jersey signed and will get a selfie of each player and a group selfie with everyone (the kids, the team, the parents and the volunteers).  They also signed an Ireland flag that we can put up in our local community hall and be proud of it forever.
On 4th May 2019 a special match is being played between Darndale FC and Celtic FC legends.  This is to raise funds for Maggie's War.  Maggie is a little girl with a rare form of cancer.  All the children from Football for All will be mascots at this game.  Many celebrities are involved in this.  The latest actor to get involved is Johnny Ward.  He is hanging up his Dancing with the Stars shoes to put on Darndale FC Football boots.
This is a great achievement for the community and marks the opening of the new Darndale football pitches and facilities.  These are great opportunities for all the children involved.  Here is to the next 100 years of Football for Darndale FC and for their young recruits.
After all, football is for all.