Summer Memories by Mary Cheevers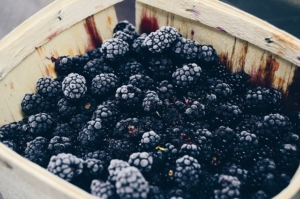 When we were children my friend, Catherine and my sisters Bertha and Anne went to Dollymount beach regularly to collect blackberries. On a good day, my mother used to make us jam sandwiches. If we had money, we pooled it together and bought crisps and minerals, TK orange was our favourite. On a bad day, we were lucky to have the jam sandwiches.
We walked to Dollymount from Artane. It was not that far, well we did not think it was that far when we were children. When we got there we would cross the wooden bridge, we take off our socks and walk in the water. Eventually we would sit down and have our lovely sandy jam sandwiches.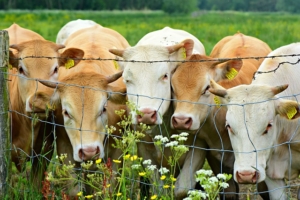 One day after school, we went off on our travels to Dollymount. We came across this gate and decided to climb over it. Me being the smallest had difficulty so the others bucked me up and over the gate. In the fields, there were lots of cows. As we were picking the blackberries, we ate most of them and put the rest into a pot that we had taken with us. On our way back, as usual I was last. All of a sudden, a cow took flight and my sisters and friends ran like hell and left me behind. I was scared stiff. I was about nine years old at the time and I can still remember the fear I felt of being dragged over the gate and of the cow chasing me. Anytime we went out on our travels, the others were told to look after Mary. Most days they did but the day with the cows I was not their priority. It was each for their own that day. I fell flat on my face so many times that day.
At that time, my mother and the other women of the area would come out and play games with the children, like skipping and rounders on the road. For Halloween, the women walked into the Fruit Market in town with big prams and bought whatever fruit they could afford. Apples, oranges, nuts, bananas and anything that was available for Halloween. They would share the fruit out with the local families.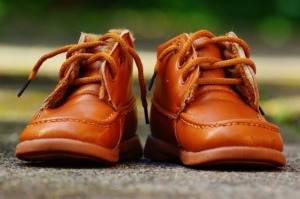 We often went down by the local river. I now know the river's name is the Santry River. We made camps out of anything we could find, like bits of trees and grass cuttings. We made daisy chains and put them around our necks. Poor me, being the smallest always seemed to get a raw deal. On one occasion, I had just gotten some new shoes, big brown ones that were supposed to last forever. At the river, I was told to jump across from one side to the other, but I did not make it. I was stuck in the mud and lost one of my new brown shoes. I had to go home and tell my mother what had happened. The others were sent back to look for the shoe, but guess what they did not find it. My lovely brown shoes were replaced by red plastic ones, they were all my mother could afford. I am still affected by those red shoes. Seriously, I had an amazing childhood. I was always very happy.
The women in those days were very good homemakers. They did not have much but what they had they shared. It was unusual for the women to go out of the home to work but that all changed when Cadbury's and Tayto moved to the local area. Jobs became available and as a result, many things changed.
Worksheet Questions Summer Memories
Worksheet Questions Summer Memories
What was Mary's sister's name?
________________________________________________________________
Where did the children walk to?
________________________________________________________________
Who was the smallest of the group?
________________________________________________________________
What games did the mothers of the area play with the children?
________________________________________________________________
What was the name of the local river?
________________________________________________________________
What colour was the shoe Mary lost?
________________________________________________________________