Old Mister Curran by Teddy O'D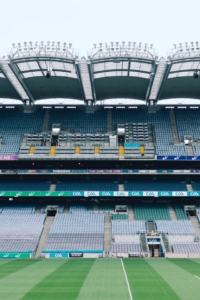 Old Mister Curran was the head grounds man in Croke Park. He was a real gentleman, I remember him well. He was a stocky man about five feet six inches in height with glasses. What I remember most was his large grey walrus moustache. His son Jimmy marked the pitch, put up the nets and did general maintenance. When it came to grass cutting time old Mister Curran would go across to Johnston Mooney and O'Brien to see Mister Barry who was in charge of the horses. Mister Barry would pick out two horses for him and they would pull the mower to cut the grass. The gates would be open and I could walk in and look around. When Mister Curran was cutting the grass I would ask him if I could sit up beside him, he always obliged. 
During the summer Croke Park was our playground. It was so easy to get in on Saturday afternoons as there was no one there. There was a big wooden gate and we would help one another to climb over. There was one more obstacle in our way, a low wall with strands of wire running through steel bars on top. But this was no problem to us, we just slid under the wires. I can still remember our joy of standing on this vast green pitch, it was heaven for all of us. We would put our coats down as goal posts then two sides were picked. The first team to score ten goals was the winner. The Drumcondra Boys were the first to play soccer in Croke Park. 
 The Saturday before All Ireland Day was a really busy day for Mister Curran and his son Jimmy. They had to mark out the pitch and put the nets up and make sure everything was ship shape for the great day. The gates didn't open until twelve o'clock on Sunday but people started to queue from ten o'clock on Saturday night as it was first come first served.  
Exercise 1: Answer the Questions
Exercise 2: Drag and Drop the Words