My Trip to New York by Teddy O'Driscoll
On Christmas Day 2017, Eric, Glen, Keith, Heskey, and Martin Lawlor called to my house. They were in a very happy mood. They said, ''We have a Christmas Box and birthday present for you – a trip to New York''. I was so happy and said, "When are we going?'' They replied, ''On March 16th, the day before St. Patrick's Day''. The next thing they came out with was, "We have to get green suits for the whole gang of us because we are walking in the parade on St. Patrick's Day''.
On the morning of departure, Heskey called for me and brought me to the airport at 7 o'clock. We had breakfast as the flight was at 9 o'clock. We went through security where our bags were checked, our passports checked, and we had our pictures taken for the American Border Control. The flight went very well and we flew with Aer Lingus. On the flight we had two very nice meals. It seemed like no time when the captain announced, ''We will be landing in twenty minutes''.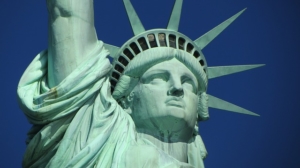 On arrival at Kennedy Airport, there was no hassle. We just got our bags and out we went. There was a big limo waiting for us. The boys had booked in advance and they were treating me like a king! We arrived at the hotel, The Edison, just off Times Square. The room was very nice. It had two double beds, a very nice en-suite with bath and shower, and a large TV. On St. Patrick's Day, we awoke bright and early. We had breakfast in the hotel, we went back to our rooms and put our green suits on and headed off to the parade.
It was a bright sunny morning but there was an icy cold wind blowing. We had only walked a short distance when Martin complained of the cold. He said, "There's a pub, The Merry Fiddler, let's have a couple of hot toddies''. On entering the pub, to our surprise, it was packed with police. They were all from home, ban gardai and gardai. They were there to walk in the parade. They all looked very smart. We soon got into their company and made good friends. Everyone in the pub was buying drinks for them and being very courteous toward them. In conversation with one of the gardai he said, "They are treating us like kings and queens, what a pity they don't treat us like that at home".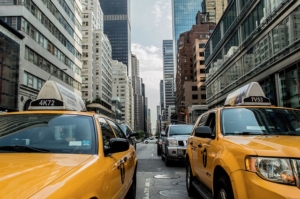 It was really very comfortable in the pub and freezing outside, too cold to walk in the parade in our green suits. We stayed and watched the match between England and Ireland on the TV. We won the match, the Triple Crown, and the grand slam in Twickenham. What a St. Patrick's Day!
On the following day, Sunday, we went to mass in St. Patrick's Cathedral and then went sightseeing. We went to Ellis Island, The Statue of Liberty and Ground Zero. These were all very moving places. The next couple of days we spent shopping and we were to go home on Wednesday. There was a very heavy snowfall on Wednesday and our flight was cancelled. We did not get out until Sunday. This did not spoil things for us in any way. We got to see The Bronx and Queens areas, these were two lovely places.
I had a really wonderful time; it was my first time in New York. I will always be grateful to the boys for such a wonderful gift.
My Trip to New York – Questions
Questions
1.List Teddy's friends who went on holiday with him?
______________________________________________________
2. What special day were they celebrating?
______________________________________________________
3. Name 2 places the friends visited in New York.
______________________________________________________
4. Checks took place at Border Control. Name two of the checks.
______________________________________________________
Worksheet: My Trip to New York
In your own words write way you think they all had a good time in New York.
________________________________________________________
________________________________________________________
________________________________________________________
________________________________________________________
________________________________________________________