Edward Gilligan by Jack Gilligan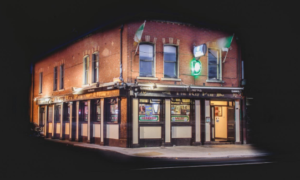 This is the story of the life of my great grandfather, Edward Gilligan, who was a farmer. He was born in the year 1852 in Co. Cavan, to parents Andrew and Anna Gilligan. We don't know much about his early life until he came to Dublin where records show him living in 13 Ballybough Road in and around the period 1872 to 1876. He also had premises at 59 and 70 Ballybough Road around this time. They were shops, according to records, a grocery shop and an off licence.
In the year 1875, he married a Mary Alpin who was from Foster Ave, Ballybough. According to their marriage certificate, Mary's father was a dairyman and Edward's father, Andrew, was deceased. Unfortunately, their life together was short lived as Mary died a year later from a brain fever in July, 1876.
In the year 1878, he married a Sarah Powell, who was a daughter of Henry and Maria Powell, who was from Tipperary. They got married in St. Agatha's Church in North William St, Dublin. A little over a year later, on the 27th of May, 1879 they had their first child, a baby girl, whom they named Maria Agnes. They went on to have a further nine children up to the year 1894. There were six girls and four boys in the family.
In the intervening years, since he arrived in Dublin, he suffered a fair bit of personal tragedy with the loss of his first wife in the first year of marriage and later on in his second marriage, the loss of two of his sons. Henry, aged 25 years, was a qualified engineer and died in the year 1912. Edward junior, aged 30, who was a qualified physician and surgeon, died in the year 1915. We know from records about two of his daughters. Anne was married to an Edward Lawless in 1908 and Grace got married to a Martin Maher in Roscrea in the year 1920. We think Maria Agnes got married but we have no records. In about the year 1889, he purchased No. 73 Ballybough Road and also in the year 1892, records show him having a residence on 113 Clonliffe Rd up to the year 1900. From then on records show him having two premises – No. 70 and 73 Ballybough Road, up to the year 1919.
Edward Gilligan died in the year 1917, aged 58. His wife Sarah died in 1925 in Roscrea, Co. Tipperary which was the county she was born in. We think that the premises No. 70 and 73 Ballybough Rd were taken over by his son in law, Edward Lawless. In spite of all the tragedies in his life and, taking into account that all this happened during the troubles of 1916 and the war in Europe, it would appear that he was a successful businessman. The premises No. 70 Ballybough Rd is still there today as a licensed premises.