My Mother – Ann Keogh by Joe Keogh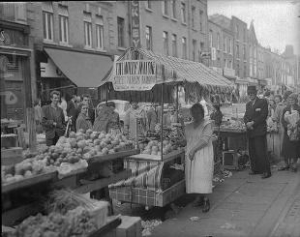 I am writing about my mother, Mrs. Ann Keogh. My mother was born in 1896 in Henry Place, Dublin, where she lived with her parents.
My mother was a street trader in Moore Street and had a fruit stall which was passed down for three generations.
Her father's name was James McCabe and her mother's name was Mary Ann Geoghan. My grandparents were married in the Pro Cathedral in Dublin on the 27th January 1889. According to the census of 1901 they had six children – five girls and one boy aged from 3 to 20 years old. They lived in a one roomed flat in a tenement house with their children. There were five other families also living in the house. My grandmother was working as a charlady at this time. My grandfather died in 1901 leaving a wife and six children. My grandmother remarried a nice man called Patrick Lynch.
My mother married my father when she was nineteen and he was seventeen, also in the Pro Cathedral in Dublin. They lived in a tenement flat in Moore Place but had to move out when the flat was shelled during the 1916 Rising. My father was a soldier in World War 1 and he was away fighting at the time. They got compensation from the British government for the loss of their belongings. Where they were living was not very far from where the 1916 leaders surrendered.
I have only one photo of my mother at her stall in Moore Street when she entered the Molly Malone contest. My mother had seven children – five boys and two girls. She was a very hard working woman and provided us with a very good lifestyle for which I will always be grateful. My mother died on the 6th of June 1962 which was a day I will never forget as she was only sixty eight years old.
Listen to Joe talk about his story here!