My Love of Motorbikes by Evan – 2017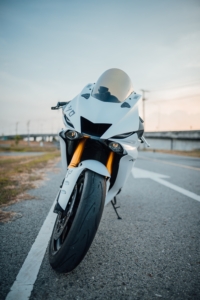 I have a long love of motorbikes.  My first motor bike was a white Yamaha PW50 which my parents bought for me when I was eight years old.  It was given to me as a Christmas gift.  My father taught me how to ride it out in the countryside in Balgriffin, but it came to me easily anyway.  It would be fair to say that I had a few scrapes along the way.
At thirteen years of age, I got a shining new Kawasaki KX 85, because I had gotten too big for the Yamaha.  I became very interested in motor-cross racing.  It took place in Swords, Co. Dublin.  It was very hard, but I never had an accident.
Sadly, when the bad times came to Ireland in 2008, my motor bike had to be gotten rid off along with our house, lands and other items.  Around that time the motor-cross track closed.
However, I have kept up my interest in motor bikes and engines and this has helped me to understand my dad's business, which is engineering.