The End of a Way of Life by Jack Gilligan – 2016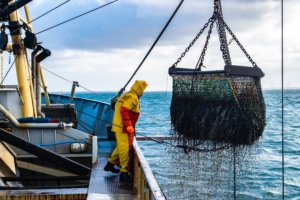 It was early morning when Tom prepared his boat, The Nova Star, for a fishing trip he and his friends, Chris and Mark, were going out on later that morning.  Little did he know the fate that awaited them later that day.
It was the last week in September when this fishing trip was planned.  Tom was the owner of The Nova Star, a forty foot motor launch and he had been the proud owner for the past six years.  He had been involved in boats most of his adult life and had owned several other boats prior to owning his present boat. Sometimes he would hire his boat out for fishing or pleasure trips, which helped him finance his hobby.  Tom was now in his mid-seventies and although he still got a great buzz out of sailing he was beginning to feel his age.
It was early morning when Tom and his friends, Chris and Mark, set sail from Howth Harbour for a day's fishing.  They were heading out beyond Lambay Island, which Tom heard was a good area for fishing.  The weather was fair with an overcast sky.  The had a slight swell but nothing to worry about.  Tom and his friends were well used to various seat conditions.  There were reports that the weather was to deteriorate, but that wasn't due 'til the early hours of the next morning and the lads would be well back in the Harbour before then. It took about two hours to reach the fishing area.  When they got there they settled in for a good days fishing.  The weather was perfect for fishing.  They had plenty of food and beer to last them for the whole day.  It was evening time and they had a good days fishing over them and enjoyed the food, beer and craic.  They also caught a load of fish between them.
It was now time to set sail for home.  The engine, failed to start.  He set about fixing the problem and it toook nearly two hours to fix it.  By now the sun was setting and it was getting dark.  As they set off for home, the weather took a turn for the worse, it looked like the bad weather was coming in earlier than reported.  The sea was getting rough with the waves getting bigger.  Tom and his friends weren't too concerned, as they had been in these conditions before.
They were sailing for about an hour and it was dark by now when disaster struck.  The Nova Star struck a large semi-submerged object in the water.  It was a container that had been washed overboard from a ship a day or two before.  The boat started to take in water.  Tom switched on the pump to try and pump out the water.  Chris and Mark started to bail out ot the water with whatever they could find.  But, after a while they realised their efforts were failing as the water levels were still rising and the boat was settling lower in the water.  The sea was getting very rough and the waves were starting to come over the boat.  As things were getting very critical, it was decided that they should abandon ship.  Chris and Mark launched the life raft while Tom radioed for help stating their position.  Chris and Mark were first into the life raft.  Tom was slow to follow as this boat had been a part of his life for years.  It wasn't until the boat got so low in the water and he in danger of going down with it, that he reluctantly decided to abandon ship.  As he sat in the life raft and watched with great sadness his pride and joy sink beneath the waves, he decided that he would not be able to continue with this way of life any more.
It was time to slam the door shut and never to open it again as a hobby and a way of life that had been good to him.  Maybe someday soon he might be able to open a new door to another hobby, but that thought was for another day.  It took over two hours before the lifeboat found them and after being tossed around in heavy seas, the lads were glad to be on board the lifeboat and making their way back to solid ground.