Craobh Chiarain Camogie Club by Marie – 2017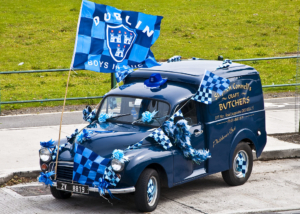 My name is Marie and I live in Donnycarney.  I have five brothers and three sisters.  All of us were involved with Craobh Chiarains, GAA Club.  I joined the camogie club when I was eight years old.  I played on teams from that age right up to senior grades.  I loved all the activities, particularly the training and playing matches.
I played against clubs from all over Dublin.  Matches were played mostly on Sunday mornings.  The club would hire coaches to travel to away matches.  I also played on the Dublin junior teams.  These teams travelled all over the country.  We played matches against Kilkenny, Wexford, Cork, Tipperary, Waterford, Limerick, Galway and Clare.  It was a most enjoyable sport to be involved in.  I have played in most positions on the pitch and ended my playing career as a goalkeeper.  I then had to retire through injury, that was a sad day.
I am still involved in the club.  I now am a coach for the under 8's camoige team.  This involves teaching kids how to play the game and I go with them to their away matches.
I have enjoyed my involvement with Craobh Chiarain's so much that I am delighted to have the opportunity to give others the great experience I have had through the years.