My Learning Journey by Mary C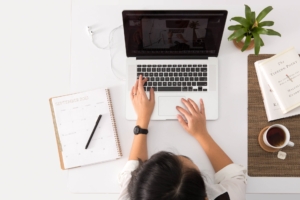 I said to my daughter Jennifer, "One day I would like to go back to school to learn how to do spelling and work the laptop." I kept putting it off for weeks.  
One day my daughter gave me a phone number for the Coolock Adult Literacy Service. I phoned up the number and they told me to come to Coláiste Dhulaigh. I remember the day I walked up to Coláiste Dhulaigh. I was very nervous. My stomach was in a knot, things were going through my mind.  
As I walked up the path towards the door of Coláiste Dhulaigh the porter at the desk told me where to go. As I walked up the stairs and down the hall to the left, I came to the door it read CDETB. I knocked on the door and I went in. There was a woman sitting at the desk. She asked my name and I told her my name. Another woman came out of the office and asked me to come into the office. I sat down on the chair, she talked to me and asked me questions.  
I started one to one the next week on a Monday. They made me very welcome and put me at ease. People were very nice; we had a cup of tea/coffee and biscuits at the break. I never looked back since that first day.  
I was learning how to do spelling and writing my tutors name was Mags. I did that for about 1 year which was very good. I went on to learn how to use a laptop and my tutors name was Mary. I was very nervous because I thought I was too old. I looked around and there were people of all ages and cultures. I did a year which I liked a lot.  
I changed courses and learned with Dee. I learnt how to type stories onto the computer. I am still in Dee's class and another class, a computer class. My teachers name is Leah and it's great. I learn how to go on websites to look at fashion like Boohoo.com. I really enjoy it. At the moment we are online because on the pandemic. We used to go on trips to museums, we went to the printing museum and had soup & sambos & tea. It was a great day out.  
I would recommend learning to people of any age. You are never too old, and it will get you out mixing with others. All ages, all cultures – its brilliant. I never looked back since that first day.