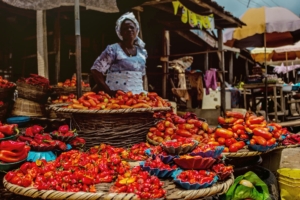 It is a long journey to Nigeria. When I fly there, I need to make stops in different airports in different countries. I do not know when I will see my children and my grand daughter again. I have not seen them in two years, and I am afraid I might not see them for a long time. It is worrying not knowing when I will see them. I watch the news every day to see if I can take a flight to see them, but I am confused because I do not know when I will see them. 
I talk to my daughter and grand daughter on the phone using WhatsApp video call and they ask me every time when I am coming to see them. I tell them everything is OK, and I will see them as soon as I can. I pray to the Lord that I can see them soon 
My granddaughter is doing well, she is on Easter break from school now. Most shops are open in Nigeria and everyone is going out and wearing their masks, they keep a distance, and they are safe. But there is a curfew, and you must be home before 10pm. When people arrive in the Airport, you need to get a COVID test from the Department of Health. It takes 2 days, and they retest you again before you are allowed into the city. 
Lockdown by Mabel – Answer the questions