My name is Mary.  I was born in the Rotunda in Dublin.  I lived over a shop in Rathmines. 
I have 4 sisters. 
I like walking, reading and watching good movies and I like going to Adult Education to learn new things. 
I used to go to discos with my sisters and my friends.  I used to go to Bingo before Covid 19.   
I walk up to the college.  I come four days a week, sometimes five.  I love going to college, meeting new people and learning.  I used to be nervous at the beginning, but not anymore. 
I like writing for Dublin Lives. I did it before and I am writing another story now.  It's called My First Job.   
My First Job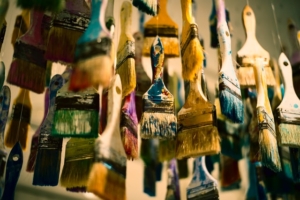 I left school at the age of 14. It was in the year of 19th November, 1969, when I got my first job at Varian Brushes, which was at 91/92 Talbot Street. My older sister, Ann, got me the job there. She was 16, two years older than me. I wasn't very nervous when I started first, because my sister worked there too.  
It was hard work, the first two weeks, getting up early. To get to work, we had to get up at five o'clock in the morning, as the bus left at 6:30am to get into town. In those days, the buses were often on strike, so sometimes, we would have to get the train from Harmonstown to Connolly Station. If the buses were on strike, we would just walk home, as the train would be packed. It was a long walk after a hard day in work. 
Varian Brushes was a very old factory, like something out of the film "Oliver". I'm surprised the building stayed standing! To get to the factory, you had to go through the shop that sold the brushes. Two young girls worked in the shop. Most of the girls came from Sheriff Street and streets around there. I think I was the youngest there. 
I had two kinds of job which I can't remember now, but one job I will always remember is when the two ladies taught me to make bushes by hand. They were very nice ladies. They were two sisters and they lived in Fairview Marino. The brushes I did at Varian Brushes were made by putting a piece of wood at the back of two metal pieces and twisting a wire to tighten it up. Then, you put each bristle in the centre of each hole and pulled it through using a long, long wire. You had to wear leather around the centre of your arm to protect it, but it was still uncomfortable. It would take me the whole day to do one brush, as they were so difficult. You needed a lot a patience. You could get bored easily and your mind would wander, but you had to concentrate. These were very expensive brushes. Most are done by machine these days. It was an old trade then and I enjoyed it.  
I remember being sent up to the boss' office to show him my work. His office was a big old office like something out of the 1800s. There was a big, old desk. I think the boss was in his 70s, which was very old to me as I was only 14 years old. I never knew his name; he was just the boss. He said my work was very good. I was happy. I got so used to showing him my work. 
The girls and men at the factory were very nice to me. On our lunch break every Friday, we went to a chipper, near the factory. They were the best chips in Dublin! All the girls went there and sat outside the music shop and listened to the music while we ate our lovely chips.  
It was brilliant to get my first pay packet. It was in a brown envelope, not like today, when it goes to the bank. You went home, gave it to your mother and she would give you some back. I felt great giving it to my mother. I was the second oldest of 5 sisters, so it was great to be able to help out at home.   
I worked there for three years, then I got another job after that, nearer to home. 
Varian Brushes has been around over 200 years. It was established in Cork in 1798, by Issac Samuel Varian. He moved the company to 91/92 Talbot Street, Dublin in 1856, when he returned from London, to live in Dublin. The Varian Brushes factory on Talbot Street was moved to the South Circular Road in 1972 and they sold the building to Irish Life. Today, the Irish Life Mall can still be seen on the site of the old Varian factory. The Varian factory moved to Walkinstown about six years ago.  I think it won an award a couple of years ago. 
MC 
My First Job – Wordsearch