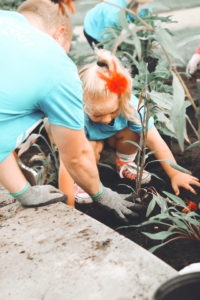 Last summer we were in lockdown.  
All of our road started to plant flowers. We got boxes for around the trees. We painted them first and then filled them with compost and planted flowers in them all around the area. 
We crocheted flowers for the trees around the road. We made summer flowers and then bunnies for Easter and stapled them onto the trees. My sister made felt flowers for the trees too.  Everyone put Christmas lights around the trees to celebrate Christmas.  
One Friday we all sat around the road for a singsong. All the neighbours got their tables out. We asked everyone what kind of food they wanted and we ordered food from the chipper down the road. 
Another sunny day we had bingo and lots of prizes. We also had a picture quiz. 
We had a sports day for the kids and we had prizes like medals.  
We had a party for my birthday on the 29th of May. We all got together for my party to celebrate my birthday. We had food and cake and drinks. I got chocolates and cards from the neighbours. It was a lovely sunny day. 
To keep healthy, I went for long walks and I lost some weight.  
I love to bake cakes sometimes and over the last year I baked mostly fairy cakes. 
During the first lockdown I didn't go into work in Tesco. My Mam and Dad were afraid that I might catch the Covid. But now I'm back in work and I'm happy to be back. I hope to get the vaccine soon. 
By Yvonne Byrne 
April 2021 
My Lockdown – Drag the words