Greyfriars Bobby by Sue McHugh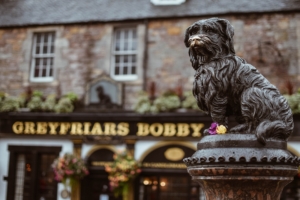 I suppose one of the very first films I remembered was a film called Greyfriars Bobby. It was the first one, 1961 version. Other ones have come out after I think. I would have only been 6 years old and my sister would have been 8 and a half. 
 Now I have to bring you back to a Halloween night in 1961. All those years ago, when myself and my sister were at a little Halloween party. My dad rented a shop in Nassau Street. It was a furniture shop called Macauley's. He used to give this little Halloween party every year in the basement of the shop. After the shop was closed he would bring the people who worked in the shop down to the basement and he would bring myself and my sister into the shop. It was a great adventure to be out at night-time. On a Halloween night my beautiful Mum and all the people who worked in the shop had a wonderful time. It was such a terrific adventure and a wonderful experience. I remember we had lemonade and we had crisps and sweets. In in those days you didn't get those kind of things every day, only at parties. On that particular night myself and my sister thought we were going home. It must have been around 6.30 pm or so. But no, my mum and dad had a surprise for us. They were bringing us to the pictures! 
The picture they brought us to was the little picture called Greyfriars Bobby. It was about a little dog. I can still remember the feeling of excitement when we realised we were not going home. It was only at the cinema door that we realised we were not going home at all but that we were going in to see a picture. I can remember bits of it, but it's funny looking up clips on the internet now, it brings back some more memories. 
However, back to remembering things about going to the pictures in those days. You would have gotten goodies as well. Although funny I can't remember getting any at that particular film (we probably had enough from the party). On other occasions yes, I can remember the lady going around with the board, for want of a better word, in front of her and she was selling ice pops, ice cream, bars of chocolate, and things like that .So it brings back a lot of memories. 
I also remember Pathe News. I can remember one particular piece of Pathe news. I would have been 11 years old because I remember I was home on holidays from boarding school. I can still remember thinking some of the children were my age. It was the Aberfan Disaster in 1966, with the collapse of a coal slag heap, where 116 Children were killed and 28 adults. The material had caused a landslide on top of a junior school and some houses. I remember being upset inside about that. I don't think I said anything about it. You kinda didn't in those days. A Memorial Garden is now where the school was.  
Click here to add your own text
Greyfriars Bobby – Drag and Drop the Words
Greyfriars Bobby – Wordsearch