A Holiday on Safari by Mary Walsh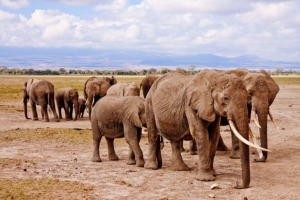 Me and by son went on a trip to Kenya. We had to get injections before we went. We got two connecting flights. We arrived in Kenya at two o'clock in the morning. I had no visa because it did not come in time and my son was worried, but I was not worried. I was asked some questions but that was all.  
The driver who brought us to the hotel was also our safari driver. He told us that he would pick us up at ten o'clock in the morning. We checked in our luggage and we brought it upstairs. Michael, my son, gave a tip to the porter. I said to Michael, "How much did you give him?" "I don't know", he said. When Michael ran out of money, it was my turn to pay.   
We got up in the morning and checked out and we told the doorman that we were waiting for our driver, but our driver never came.   It was the same morning, so we had to check back in. I asked for a room with two beds because we had been given a room with a double bed the night before. I told them "He is my son, not my husband." My son told me it was ok. I said Michael, "I want a good night's sleep because the first night we had a double bed". By the way my son was thirty-six!!  
We finally went on safari from Kenya to Mombasa. We stayed in different hotels every night just coming in for our dinner with all the animals around. 
Worksheet 1: A Holiday on Safari
Alphabetical Order
A B C D E F G H I J K L M N O P Q R S T U V W X Y Z
Alphabetical order means that the words are in the same order as the letters of the alphabet
Put the following words into alphabetical order:
Worksheet 1: A Holiday on Safari
Alphabetical Order
A B C D E F G H I J K L M N O P Q R S T U V W X Y Z
Alphabetical order means that the words are in the same order as the letters of the alphabet
Put the following words into alphabetical order:
Doorman
Check
Son
Driver
Husband
Injection
Question
Luggage
Porter
Arrive
Worksheet 2: A Holiday on Safari
Choose 3 words from the list above and make your own sentences:
1_______________________________________________________________
________________________________________________________________
2_______________________________________________________________
________________________________________________________________
3_______________________________________________________________
________________________________________________________________