The Nathan Carter Concert by Michelle Rogers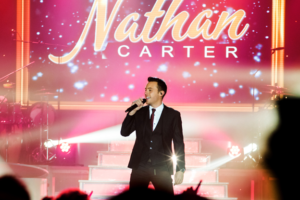 This story is about Nathan Carter. Last Christmas my sister gave me a present of two tickets to see Nathan Carter in the Helix.
We were very excited. They were for the 31st January. I was going with my mother.
We were sitting three rows from the stage. At a quarter past eleven everyone was told to leave the building because the fire alarm went off, this brought the show to a sudden end. He was playing my favourite song, which is "Rock Me Momma like a Wagon Wheel "when it happened. I was very happy going home.