My Weekend in Blackpool by Martha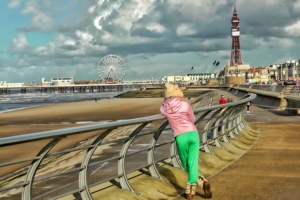 Many years ago five of my friends and myself decided to go for a few days to Blackpool.  I was given the task of getting the airline tickets.  I tried to get a flight straight through to Blackpool but there was no flight left for the times we needed, which was an October weekend.  So, not knowing very much about how far one place was from another in England, I decided we would go through Birmingham!!
One of my friends booked a bus to get us from Birmingham to Blackpool.  All was well, we thought, until we arrived in Birmingham, there was no bus waiting for us.  We waited around for a couple of hours, still no bus so we decided we would go by train.  There was an airport bus to take us over to the train station but when we got there, there were so many steps to climb, we decided against it.  We than had a brainwave, we'd get a taxi. But discovered that no taxi man wanted to take six people and all their cases in one taxi.  
At last we found one man who said he would take us for £120, so that meant it was £20 each.  On the way in the taxi we made up our minds to do the same coming back.  We told the taxi man and he said he would do the return trip for the same price, which was another £120.  Anyway, when we got there we had a great time.  When it was time to go home the taxi arrived and we started on our return journey.  It was raining cats and dogs and there was so much traffic on the road we were delayed and as a result we missed our flight home, thankfully we got another flight later that same night. The journey both ways was disastrous but while there we had a brilliant time.