My Dublin in the 50's by Tony – 2015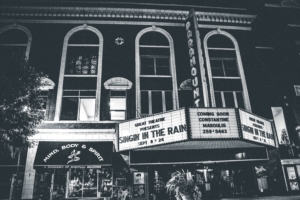 At the start of the fifties, I was going to school.  I left school in October 1952.  I lived in Cabra West on the north side of Dublin.  We could play football on the road because there were no cars on the road.  I would go into town on the bus with my mother, and then we would get the tram up to Mount Street to see here brother.
On Friday's, we would leave school and go to the Plaza to see a film.  It was only 4d in.  When the picture was over, we would walk home, up through Phibsborough and up the Cabra Road.
One summer I went on a tour.  I got a train from Dublin to Galway.  In Galway we got a bus tour to Connemara.  We also went to a place called Cong in Co. Mayo where the film "The Quiet Man" was filmed.  The film was made around Ashford Castle.
In the 50's you could go to the Metropole and see a film, afterwards you could go for tea in the restaurant and then you could dance the night away in the ballroom, all under the one roof.
On Saturday's, we would go to the Theatre Royal and see a variety show and a film.  You could also have a beer in the bar.  The Royal was one of the best theatres in Europe.