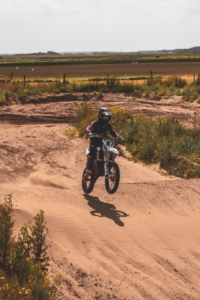 My family love all sorts of sports and at different times I was involved with some of these sports.  The motor cross racing was really good.  I was very young but I still remember the good times I had at it.   
The bikes that are used are called, Off Road Bikes.  Races take place over dirt tracks. Dirt tracks are very rough lands, mucky fields with dangerous hills.  The rider has to wear protective clothing and a helmet.  Everything to do with the sport is very expensive. 
There are motor cross centres all over the country but I know the one in Santry best.  There is also one on Alfie Byrne Road in Clontarf. 
My dad and his brothers were all involved in the sport.  My brothers were also involved.  I remember coming back from the track and I nearly having to be hosed down I was so mucky.  Now I enjoy watching it if it is on the television. 
Motor Cross Racing – Fill in the missing words