H. Williams and Northside Shopping Centre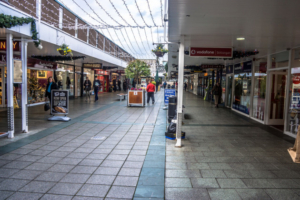 I can remember back as far as the 1960s, early 1970s when you would go for a walk to H Williams, Lorcan Avenue, Whitehall, to do your shopping. You would come out with a lot of shopping and still have a bit of change in your pocket or purse. It was a shop that you would go to until the Northside Shopping Centre was finished and up and running with a few shops. When it was open in 1971 there was no roof inside the shopping mall. As far as I can remember you could see the plans for the shopping centre in an office on Cromcastle Road or in the depot on Kilmore Road with the flats around the office. That office is still there and it is the meeting point for the workers in Dublin City Council to have their break most days when they are working around the area. At the same time back then you would have a lot of small shops around the area doing some stuff as well until you got to do your weekly shop. 
Even when I was a teenager, I was sent to do a small shop in the local small shop for a couple of the neighbours in the area. It was great to do that for them. At the end of the week I would say "I did my good deed for the week". I would do it for the neighbours that could not get out. Even when we had the bad snow around that time I would go to the local shop when it was there. 
Exercise: Drag and Drop the Words