Dean's Shot at Being a Singer by Gloria Redmond
Sean and Cathy had two sons. Their older son Mark was good in school. He passed his Junior Certificate and Leaving Certificate. Mark went down the wrong path. He got in with the wrong people. He lived a life of crime. Mark could not get a job because of his criminal record. He was beaten up by people in a gang and ended up in hospital. Sean, his Dad was a police officer; he sat at Mark's bedside while he was in hospital. When Mark got home and was well again he got his life back on track. He got a job working in a café around the corner. He was happy working there.
Cathy went to the doctor. She was getting sick. The doctor did a pregnancy test on her. Cathy was shocked when the doctor said she was pregnant again. She went home to tell Sean and Mark. They were happy. Mark was going to be a big brother to a boy or girl. Nine months later Cathy had a baby boy. Mark now had a baby brother. They christened him Dean. Mark was godfather. He grew to love Dean. He taught Dean everything he knew but Dean showed no interest at all. When Dean turned 14 his brother Mark took him to his first concert. The band that was playing was Wet Wet Wet. After the concert, Dean knew that he wanted to be a singer. He had to pass the Junior Certificate first. Mark said to Dean don't go too hard on the books. Dean said okay.
Dean's parents were happy that he had passed his Junior Certificate. They said well done. They said that their son had grown up. His mother said that she was proud of him, as she didn't have to worry about him going down the wrong path. His father said that because he got a good education not like his friends who turned to crime, he could go and get a good job for himself. There were good opportunities out there for Dean. Dean asked his mother what she did for a job. She said that she was a dancer in a club.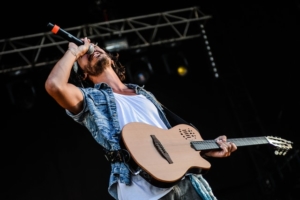 They were in the sitting room sitting down on the sofa when Dean said to his parents that he wanted to be a singer. They said okay, if that is what you want to do in life. We will support you. Dean said he had special parents because they were letting him become a singer. He now learned that his grandfather was in a band so that was where he got his love of music. His brother said that Dean always wanted to be a singer. It was a dream of his. There was no other option for him. Their parents agreed. Dean got advice and help with his vocals. It took some time and much practice but he eventually made his name in the music world.
Dean's Shot at being a Singer – Wordsearch